BlackBerry
There was a time when BlackBerry ruled the mobile kingdom, but as sales began to slow they turned to Razorfish for help. For nearly two years I helped create everything from campaign websites to interactive digital-out-of-home ads. My tenure ended with the following video: An anthem to rally a dejected organization, rocked by layoffs and plummeting market share. It served to ground all of BlackBerry's technological advances and true innovations into something real, something more human.
#BeBold Campaign
A campaign with close to a billion impressions. How many campaigns can say that? I directed this ad takeover for BlackBerry's "Be Bold" campaign that ran during Dick Clark's New Year's Eve celebration. Our ads marked the introduction of the #BeBold hashtag. The strong visuals tied with bold lines like "Make someday today" encouraged people to tweet their NYE resolutions using #BeBold.
Carrying on with #BeBold, we created this aggregate site that categorized and pulled in all the positive #BeBold mentions.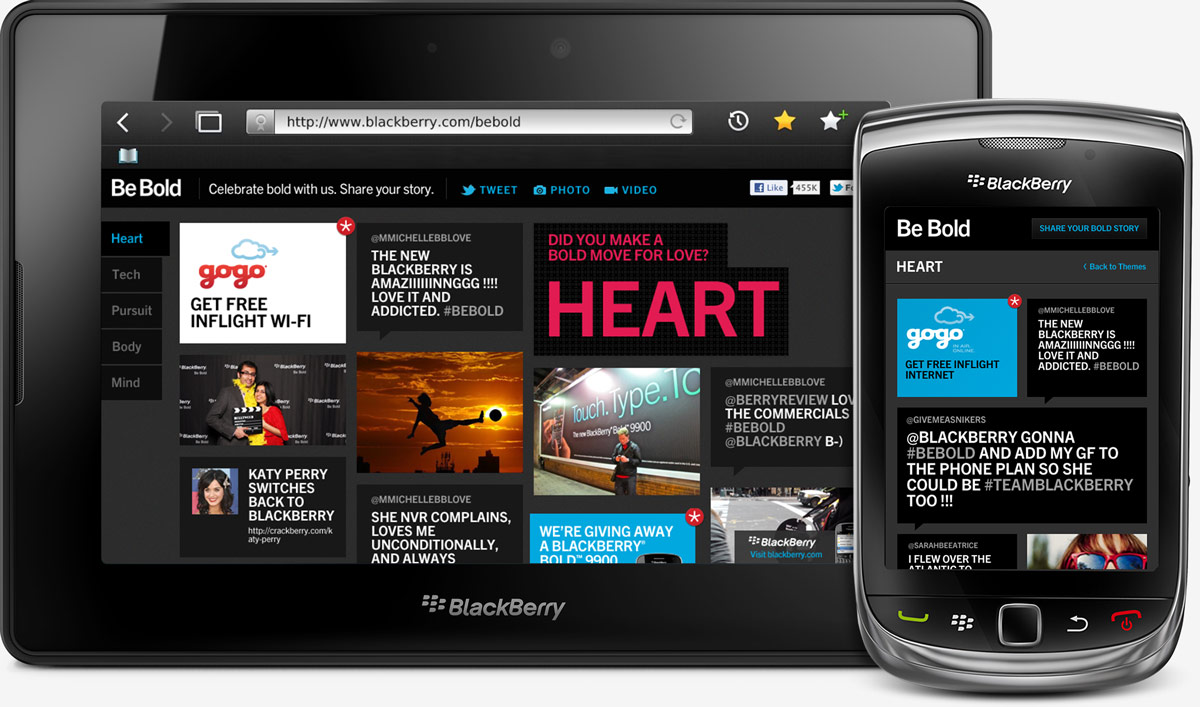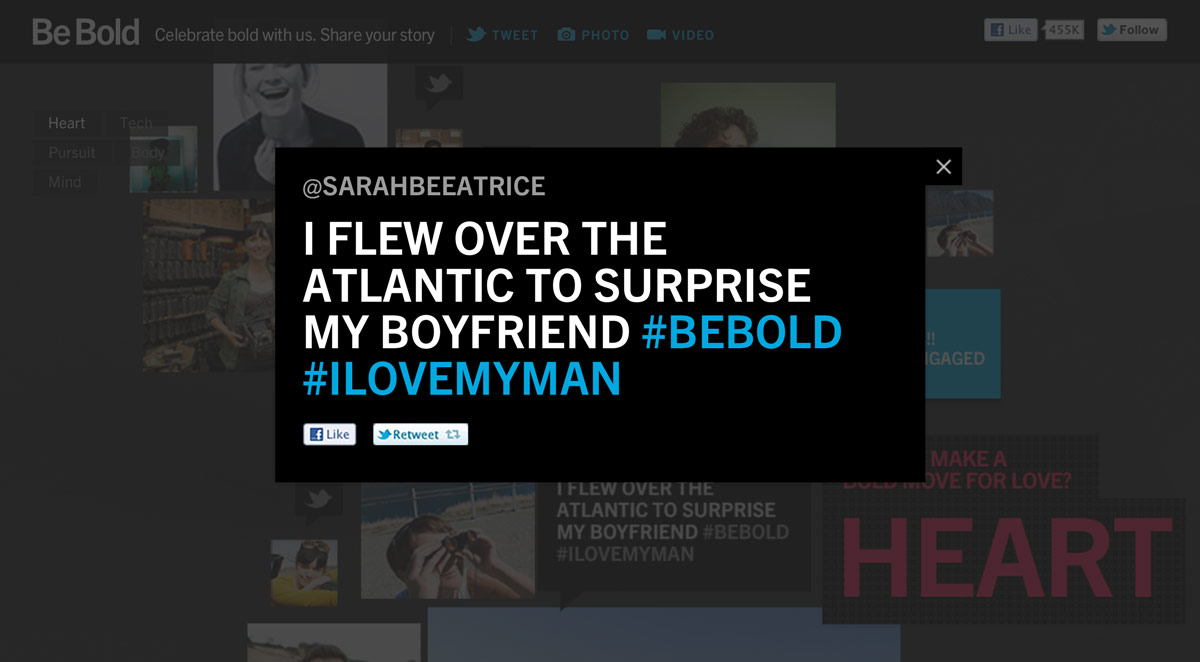 Bold 9900 Campaign
With BlackBerry due to launch the long-awaited update to their Bold smartphone line, we proposed a drastic change in direction. Instead of trying to win on specs we pushed to appeal to people through BlackBerry's true innovation: Engineering that enabled real human emotion and connection.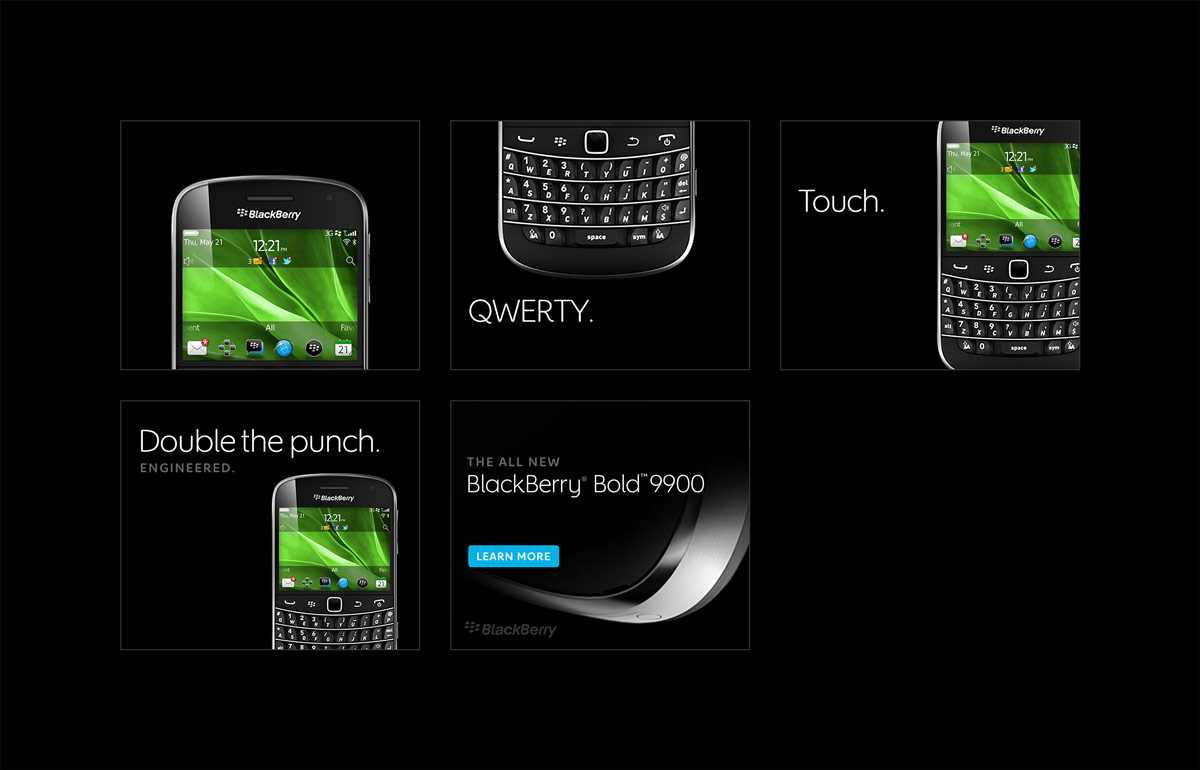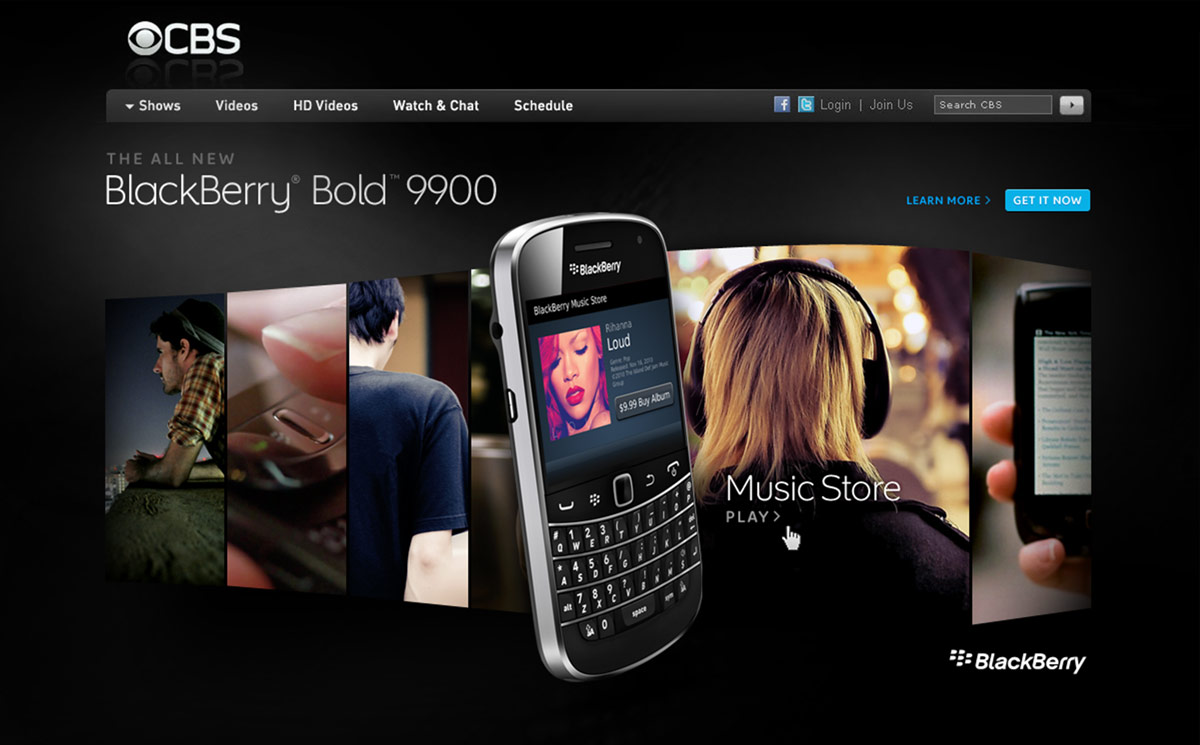 BlackBerry PlayBook Launch
For the launch of the BlackBerry PlayBook, we created an extensive DOOH campaign that appeared in major North American airports. Our placements included several interactive walls, hallways lined with 200 feet of continuous digital displays, and numerous large-scale digital screens. The interactive units responded to motion as well as touch, to allow for a range of interactions depending on the proximity of people passing by. Calls to action invited people to touch to explore the PlayBook and all of its possibilities.
Part of our launch proposal was to give those who pre-ordered a BlackBerry PlayBook a little something special. They'd get their very own VIP card that unlocked a bunch of free content for their PlayBook. This involved directing a swanky "VIP" style photoshoot.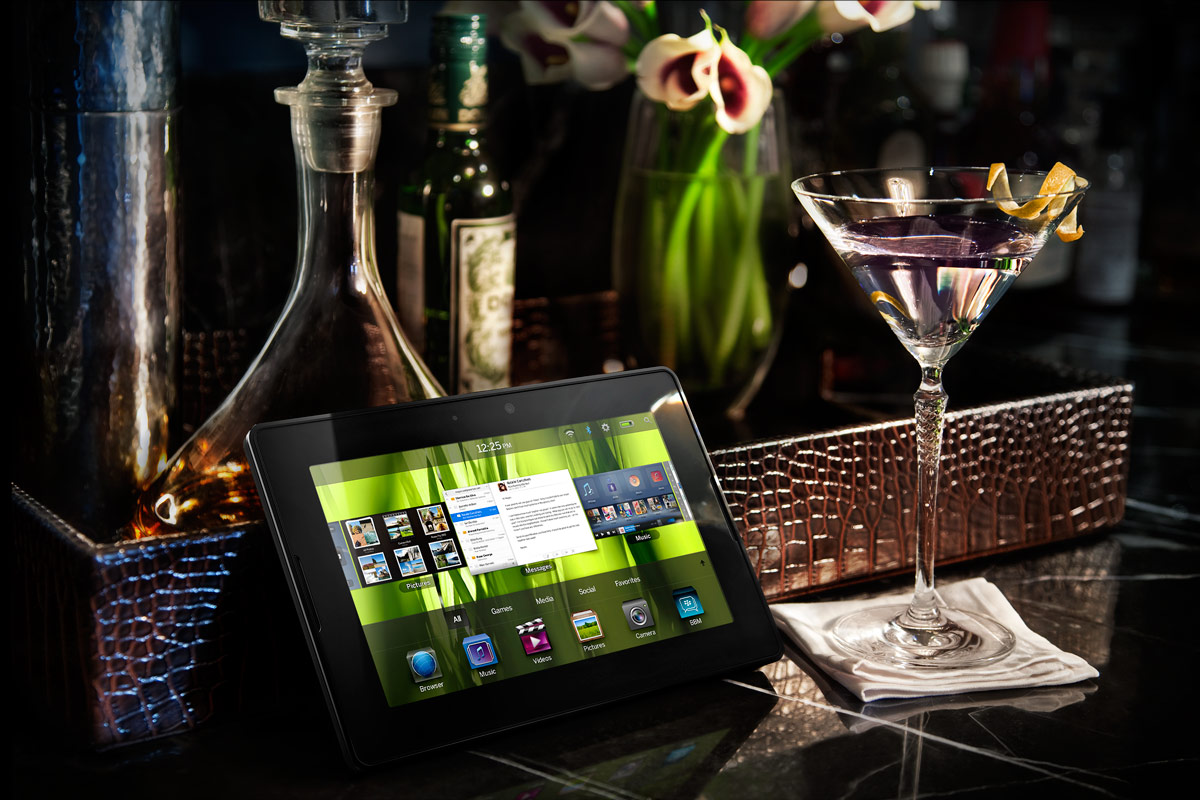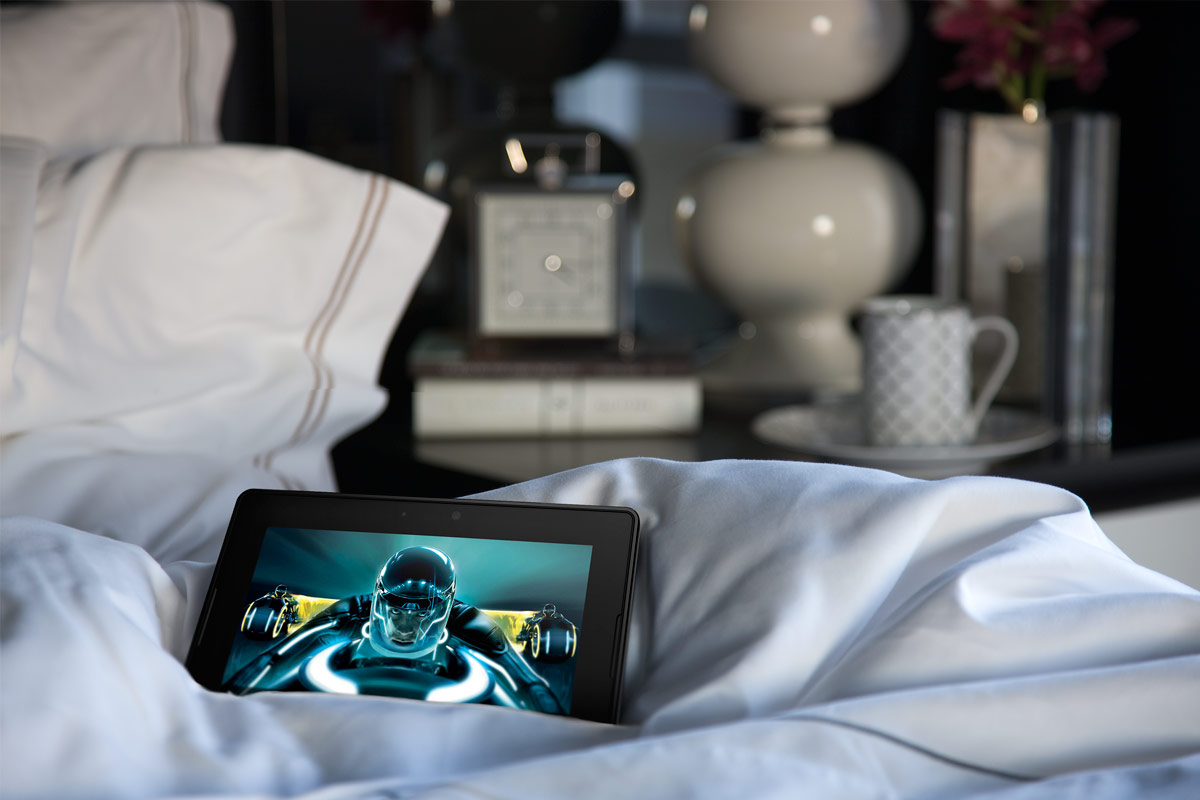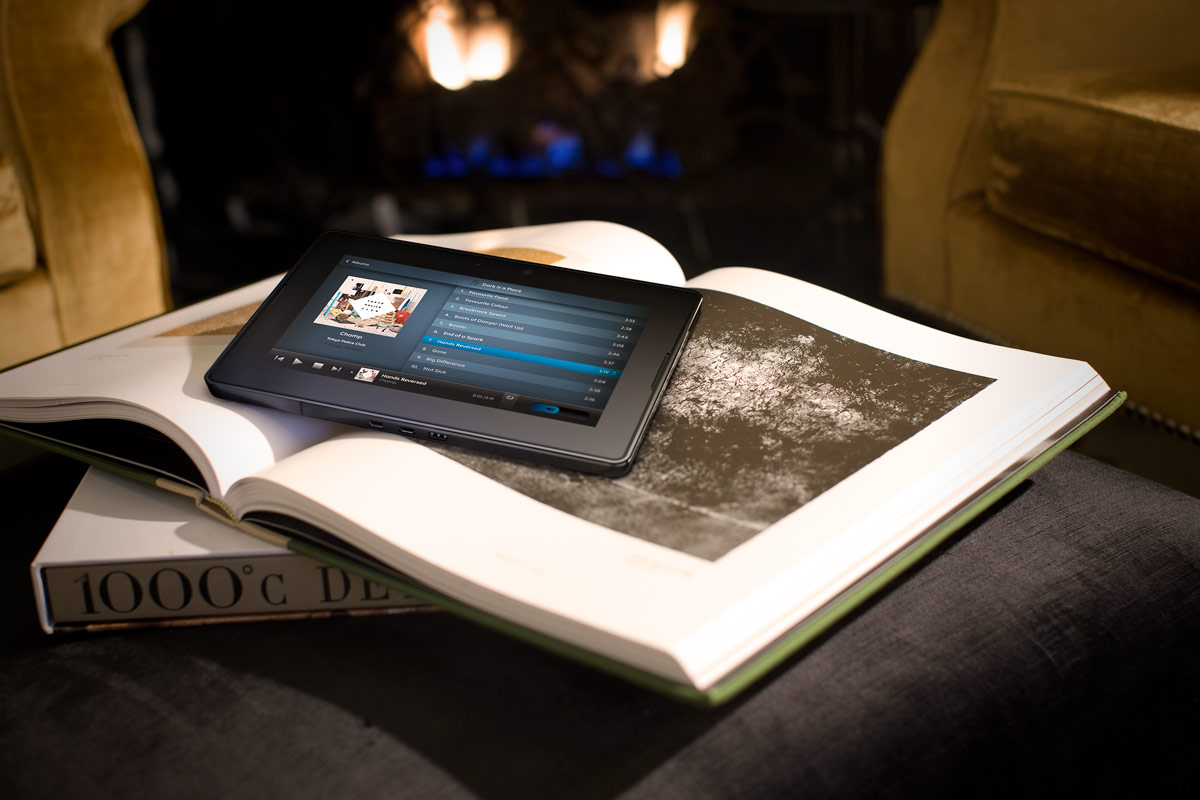 The Players' PlayBook
To create awareness for the PlayBook, BlackBerry teamed up with five NHL superstars and gave them each a tablet. They recorded everything from table talk to pre-game rituals. At the end of each week their footage was edited down into funny clips and posted on this site.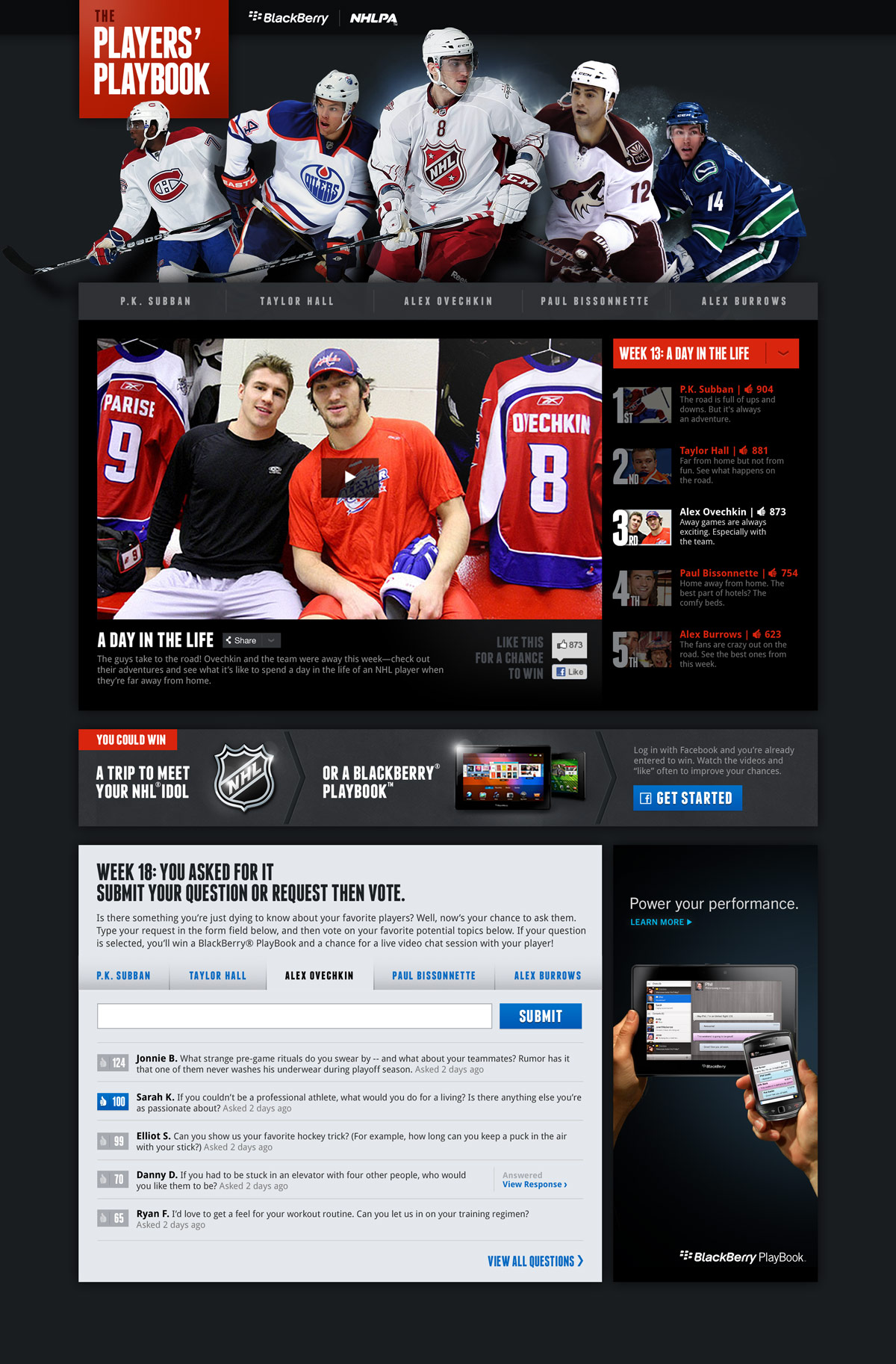 BBM Challenge Council
The BlackBerry Challenge Council was a competition that gave a group of fans the opportunity to become proteges to their favorite celebrities. Enabled by BlackBerry devices, the contestants went head-to-head in weekly challenges posted on the site. And in the end, the winners got to fly out and meet their respective celebrities.